Our Professional Staff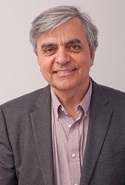 Dr. Lorne Bozinoff
President and Owner
Dr. Bozinoff is the president and owner of Research Dimensions. He is also the founder of Forum Research and has over 30 years in the Research and Customer Experience marketplace. Lorne in his earlier career spent time at Gallup Canada and Price Waterhouse Coopers in a consulting capacity and also spent time teaching at both Penn State and University of Toronto. Dr. Bozinoff is also a Chartered Scientist with the Royal Statistical Society.
Bob Liepa
Senior Vice-President
Bob is an experienced market research professional who began his career in 1978. Over that time he was worked in a variety of fields including packaged goods, travel and tourism, audience measurement, and financial services. More recently he has developed a special expertise in lotteries and gaming. He combines big picture insights and understanding with a keen intellect and solid research fundamentals. Bob has an Honours B.Sc. In Mathematics from Queen's University.

Nancy Dahl
Senior Research Director
Through her work at some of Toronto's leading market research firms over the years, Nancy has managed all aspects of quantitative and qualitative research for a wide range of clients in the consumer, business and health care sectors. Her analysis of a large-scale quantitative study of critical care units has been published in the American Journal of Critical Care. Prior to entering the market research field, Nancy worked in the areas of product management and strategic planning. Nancy has an Honors Business Administration (HBA) from the Ivey Business School (Western University).